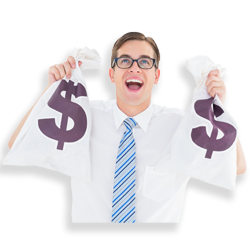 Despite high-interest rates, inflation, and recession fears, Wilmington, Deleware, area consumers are expected to spend between $14.6 and $14.9 billion dollars at retail in 2023, according to recent per capita forecasts based on a survey by the National Retail Federation. This will be a 4-6% increase over 2022.
"In just the last three years, the retail industry has experienced growth that would normally take almost a decade by pre-pandemic standards," NRF President and CEO Matthew Shay said. "While we expect growth to moderate in the year ahead, it will remain positive as retail sales stabilize to more historical levels."
The challenge for Wilmington area retailers, however, is keeping a significant share of these dollars in local cash registers. According to the NRF, the amount of money spent online and non-store options will increase by 10-12%. This is nearly twice the growth rate of all 2023 retail dollars and translates to more than a $1.5 billion dollar outflow.
To keep the expected deluge of new retail dollars local, area small business owners will need to advertise to convince Wilmington consumers of all the benefits of buying from local companies. By almost every marketing metric, the best way to advertise is on Wilmington radio.